Dieser Eintrag wurde archiviert. | This post has been moved to the status \"archived\". ~~ 2021/12 dn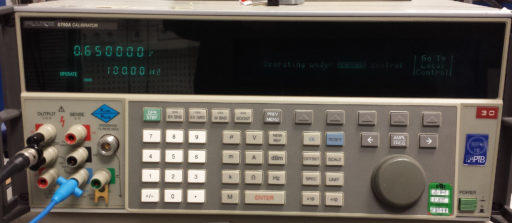 Vom 25. bis 27. August 2017 bin ich auf der Maker Faire Hannover auf dem Stand der Physikalisch-Technischen Bundesanstalt anzutreffen.
Dort habt ihr die Chance, eure selbst mitgebrachten Analog- und Digitalmultimeter von unserem Kalibrierservice kostenlos kalibrieren* zu lassen. Als Spannungs-, Strom- und Widerstandsnormal nutzen wir unseren Fluke 5700A Multi-Function Calibrator (siehe Foto), welcher zuvor von der PTB rückführbar auf die entsprechenden SI-Einheiten kalibriert wurde.
Ich überlege, von der Maker Faire aus einen Live-Blog zu machen… hmm 😉
See ya there!
---
* Wir stellen jedoch keine Kalibrierscheine aus!