Introduction
Since June 1st 2022 it is possible to travel within the whole country of Germany by public transportation system with a flat-rate ticket which costs only 9 Euros per month. The ticket is time-limited and valid only during the current month. It applies only to the German public transportation system (e. g. trains of German Railways such as DB RegionalBahn, RegionalExpress, S-Bahn, also metropolitan transportation  systems such as U-Bahn, busses & trams). The ticket doesn't apply to inter-regional trains such as ICE, IC or EC and doesn't cover 1st class travelling in any of the mentioned transportation systems.
It was proposed by the German Government as a time-limited experiment in order to motivate people to drive less cars and as a financial relief due to very high energy and gasoline prices. The 9 Euro ticket will be obtainable during months June, July and August in 2022. The financial losses to the transportation companies due to this very cheap ticket will be compensated by the taxpayers. I think this is a good idea although its execution wasn't very well planned. Nevertheless, it's a step in the right direction! The German public transportation system is "OK" but isn't able to handle – let's say – sudden passenger increases of 20% or more very easily.
My Trip from Braunschweig to Meschede
I've bought myself a 9 Euro ticket and went on a trip from Braunschweig to a small city called Meschede. I've been living and working in Meschede for about 1.5 years before moving to Braunschweig. Although its location is in mid-western Germany and it's only 260ish kilometers distant, it is a remote location because it's surrounded by forests and hills of the Sauerland region. There is no easy way to get inside or outside of Sauerland 😉 My trip planner calculated a total travel time of about 5 hours and 21 minutes with approx. 1 hour of exchange durations. Travelling from Braunschweig to Meschede and back by train will be at least a 10 hr and 42 minute trip (which was the case).
I've started from my apartment at roughly 6:30 in the morning and took the bus to the central station. My first train went from Braunschweig to Bielefeld, a ~2hr trip. The two floor train was very clean and there was enough room for passengers and bicycle users. Changing train in Bielefeld offered a different image. The train was heading in direction to Dortmund. It was pretty full with passengers and commuters but I was able to get a seat in the bike wagon. People standing around me were 10 drunk ladies (bachelor party) which were very funny and entertaining. In Dortmund, the train filled up to its maximum capacity where I felt sorry for the passengers. They were stuffed like canned tuna. I've spent about 20 minutes on the Dortmund central station gathering some fresh air. Nothing special: cops everywhere, fewer-than-usual soccer fans, LGBTQ pride flag carriers, occasionally religious fanatics and beggars. It's a wild place but somehow appealing. The last section of the route was from Dortmund to Meschede. The train was OK – clean, not too full, a little bit loud due to its diesel engines. I found a seat near a group of drunk guys which were also very funny and entertaining. At one of the train stations, another drunk guy joined and collected refundable bottles. This was so unreal, he looked like a 70 year old smashed alcoholic, barely able to walk but the drunk party donated like 10-12 empty bottles of beer instantly to him 😀
To my surprise, all trains were on time and there were no major delays. I arrived in Meschede at 12:40 so the total travelling time starting from my apartment was approx. 6 hr 10 min. I couldn't stay for a long time in Meschede because of the 6h return trip so I planned to stay for about 4.5 hours. This is one thing to consider when using 9 Euro ticket: the travel duration killed most of the day and reduced the visit duration significantly.
However, I was able to visit my old workplace and say hello to my former colleagues and some old friends. The Open-Door Day at University of Applied Sciences in Meschede offered a rich program of science, engineering, entertainment and food. The weather was excellent and very inviting.
The return journey was very tiring: the train from Dortmund to Bielefeld was 15 minutes late and full to the max. We were standing for about 30 minutes without any room to move until a portion of passengers left the train. Luckily due to long exchange duration, the meanwhile 20 minute delay didn't affect the connecting train from Bielefeld to Braunschweig. The section from Bielefeld to Braunschweig was OK – no problems whatsoever. About 90% of people inside of trains were wearing a face mask due to COVID-19 pandemic which was very nice. The current infections are very low in the region of 350 per 100 000 inhabitants but one has to be careful anyways. There may be a new infection wave in the autumn this year…
Summary and conclusion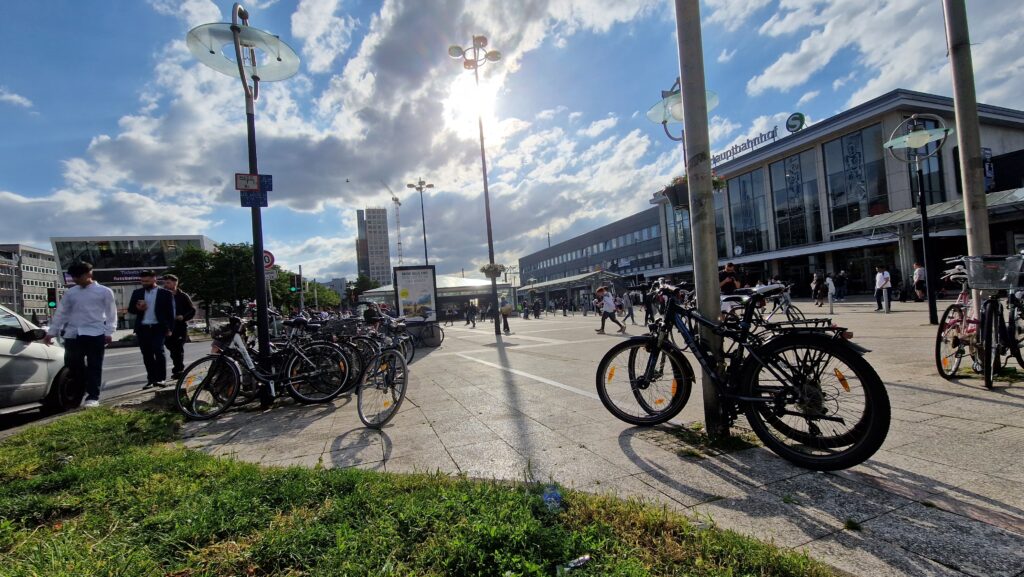 I've spent most of my day travelling in trains. It was cheap but also do-able. I was able to travel from Braunschweig to Meschede and back in one day for 9 Euros! This trip would have cost at least 50 Euros instead without much improvement in travel quality. I've been to Meschede few weeks before this trip by car and the gasoline alone cost me 80 Euros.  The quality of trains (size, cleanliness) and its connection vary significantly from region to region. One has to consider that trains will be full during commuting hours and empty outside of them. During weekends, bicyclists take up a lot of space in the trains so this can be an issue, too. The people are usually friendly and very helpful but there are also exceptions: drunk and loud people, some of them smell badly due to sweat or even urine. The toilets are in an acceptable condition but don't rely on this – try to take Number One/Number Two at a train station instead inside of a train toilet.
The 9 Euro ticket is definitely worth it and should be used to visit all kinds of places in Germany. There are wonderful towns and regions which should be visited during the summer time. I haven't been to cities such as Rostock, Schwerin, Konstanz, Kiel, Flensburg, Saarbrücken and many others so I'll try to catch up with my visits.