Dieser Eintrag wurde archiviert. | This post has been moved to the status \"archived\". ~~ 2021/12 dn
Bei diesem Versuch wird das Trägheitsmoment eines starren Körpers, z.B. einer Kugel oder eines Zylinders, mit Hilfe eines Torsionspendels bestimmt. An sich ist der Versuch relativ einfach durchzuführen – man muss im Prinzip die Gegenstände ausmessen (Geometrie, Gewicht) und die Schwingungsdauern mit einer Stoppuhr erfassen. Aus den Messungen der Periodendauern lässt sich das Trägheitsmoment des vermessenen Gegenstandes ausrechnen.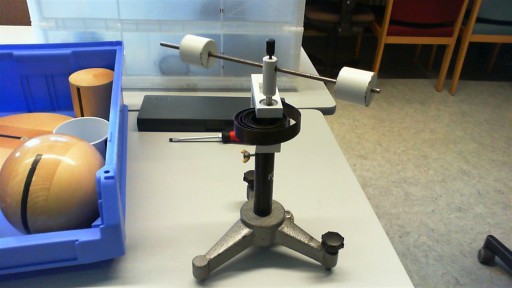 Die Auswertung wurde in MATLAB geschrieben und enthält eine Fehlerrechnung (Ergebnisse wurden nicht gerundet).
Für Hinweise auf Fehler bin ich sehr dankbar. Die PDF kann man mit dem folgenden Link herunterladen. Bitte beachten Sie eventuelle copyright-Hinweise auf der "Über Mich"-Seite.